I am fully aware that I should be studying right now.... BUT I feel the need to share this special something that I have discovered and I think you all should treat yourself to this delightful indulgence.... in moderation of course! HOLY COW... brace yourself... it is AMAZING!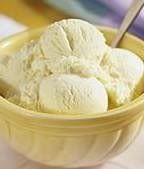 (vanilla & caramel ice cream)
(Girl Scout Samoa Cookies)
=

(Dreyer's Samoas Cookie Ice Cream)
AKA: Heavenly Goodness
that should NOT be living in my refrigerator!!!!