First and foremost... the
Sweet Melissa
gave me a Friend Award! I feel so honored! Thank you so much, Melissa!
Here is the scoop on this award:"These blogs are exceedingly charming. These kind bloggers aim to find and be friends. They are not interested in self-aggrandizement. Our hope is that when the ribbons of these prizes are cut, even more friendships are propagated. Please give more attention to these writers. Deliver this award to eight bloggers who must choose eight more and include this cleverly-written text into the body of their award."
Now it is my duty to tag some of my faves!
Now on to the weekend! Friday night the hubs and I went out to dinner with my brother, sis-in-law, and niece. We went to Bucca di beppo. It was delish! However, I'm pretty content with any Italian food! I also tried the lemon basil mojito.... yummo! It's usually a hit or miss with me on mojitos, because sometimes I think they taste like mouthwash. But this one... it was a hit! It was pretty loud in there and the whole purpose of the dinner was for my brother and I to discuss what I have planned after graduation. He is already a chiropractor and has an awesome practice here in Texas. We had kicked around the idea of me maybe practicing with him for a bit, so we had discussing to do. Well, since it was so loud we decided that we would relocate to Cheesecake Factory for dessert and some more cocktails. My sis-in-law and I shared the Kahlua Cocoa Coffee Cheesecake. It was AWESOME! I also got a strawberry martini.. aka: strawberry infused vodka chilled with a sugar rim. Holy moly it was amazing! Stout... but amazing!
What came of the convo with my brother you ask? Well, the hubs and I have been considering going back to Oklahoma. We miss it more and more each year that we are away and I would really like to raise our family there. Sooooo we are thinking that the game plan is: Hubs is starting to apply for jobs that include OK in his territory and I am going to start looking for a place to start up my own clinic up there! SO EXCITING! Nerve racking? yes. Scary? yes. But totally exciting more than anything! I am going to look around here at some places as well, but we are thinking that Oklahoma is the way we want to go. The only downside... that adds on ANOTHER board exam to take. I've got to finish out my National Board Exams (I've taken 2 parts... I have 3 parts to go) and now I have to take an Oklahoma State Board exam as well. But, it's all good! I'll knock em all out!
Ok... moving on. Saturday night hubs and I met up with a group of friends at Twin Peaks to watch the UFC fights. My brother got us hooked on them about a year ago. PLUS... this yummy piece of work was fighting:
Meet George St-Pierre.... YUMMMMMO!
I can't find a great pic of his legs... but man oh man, they are beautiful too!
We had a great time hanging out with friends and watching the fights. We hung out at one of our friend's houses for a while after the fights, then went home and crashed.
Sunday started with a hangover... crappy. Luckily I recovered quickly. I resorted back to my old trusty undergrad hangover remedy.... A slurpee and a McDonalds cheeseburger, cheese only. It worked like a charm! Then we headed up to my bro and sis in law's house for Addy's bday party. I have pictures, but am not at home right now so I'll have to share those later. Addy had a great birthday! She got tons of dress up stuff. She also got a PINK Mustang GT Power Wheels! That was from her mom and dad. It is perfect for her. She and the other kiddos had a blast cruising around in it. After the bday party wrapped up, the Super Bowl party began. We ate A LOT and hung out and watched the game. I wish the Cardinals would have won. :o( Oh well, it was a good game and I got to look at this guy during the game: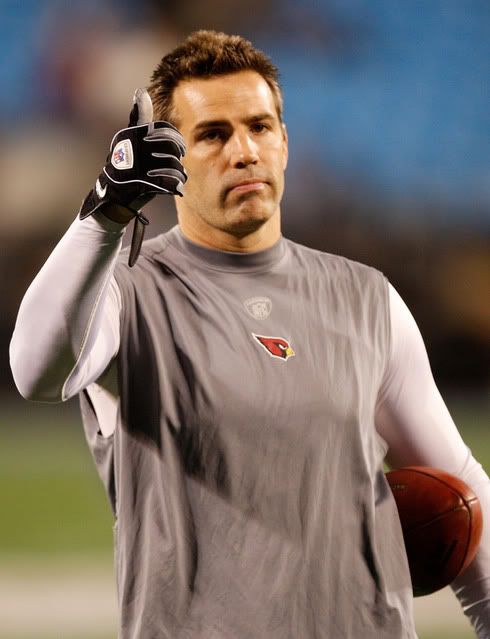 Meet Kurt Warner, the quarterback of the Cardinals.
Such a cutie!
So I guess what I'm trying to say is that it was a pretty good sports weekend! None of the commercials really stood out to me all that much. I thought the cutest one was the Budweiser one where the horse went a fetched the big ole stick after the dog did.
Well, that's all I've got for now! It's time to head back to class!
I hope everyone had a safe and fun Super Bowl weekend!